Sangalle - Colca Canyon
Sangalle (2, 100 meters alituted) is located in Colca Canyon - Cabanaconde . 2 hrs and 30m trekking downhill from Cabanaconde.
Formerly Sangalle was a very important place for local people in Colca Canyon because of the existence of fruit trees, but suddenly there was a terrible plague that began turning bad all those fruits.
Nowadays Sangalle is a charming tourist spot and a refreshing place to recover the energy spent during your trekking.
This magical and unique place is best known for local people as the "OASIS", because of its wonderful location and its green vegetation that is surrounded by dry mountains. This Oasis is located at the bottom of the canyon next to the Colca River. It has beautiful gardens and natural pools that it helps against the burning sun. Without a doubt Sangalle is a place we definitely recommend it.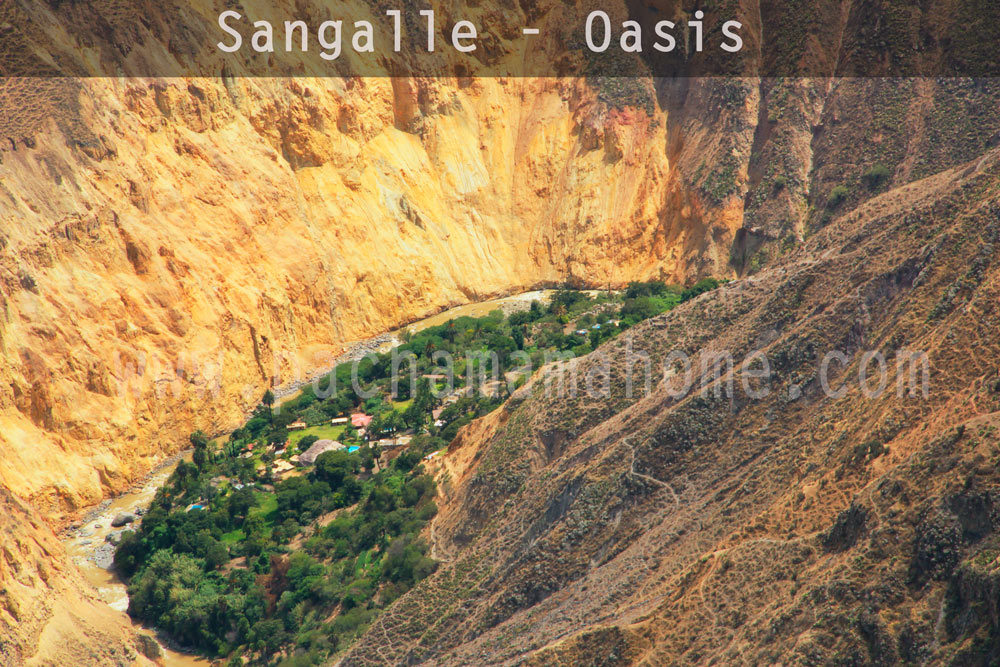 Explore Colca Canyon - Cabanaconde - Sangalle
This is another way to explore Colca Canyon – Cabanaconde, so If you just want to relax and enjoy from the views of Colca Canyon, this short trekking to Sangalle is for you.
The tour involves travelling by local bus from Arequipa to Cabanaconde. Pachamama team will meet you at the Viewpoint of Cruz del Condor . Watching Condors in the afternoon is a different experience. We will also stop at the great lookout of Tapay where we can see the villages and the mountains of Sepregina and Bomboya. Stay a night at our Hostel Pachamama.
The second day we do the loop from Cabanaconde to Sangalle which it is 6 hrs or you can just decide to walk 2 hrs and 30 minutes down to the bottom - Sangalle. We start early to avoid the sun and we will reach by the afternoon to Sangalle and just relax.
The following day we stay at Sangalle till midday and enjoy from the quietness of this place, most hikers will depart Sangalle early. We climb to Cabanaconde in the afternoon in order to reach Cabanaconde before the sunset. Enjoy from the Sunset on the way back to Cabanaconde.
Last day, you return to Arequipa with the Tourist bus. You can also join to a second chance to see Condors in the morning and continue the tour with the Tourist Bus.
This trekking Tour is only organized by Pachamama and we do our best so you can have the best experience. See more pictures of Sangalle.